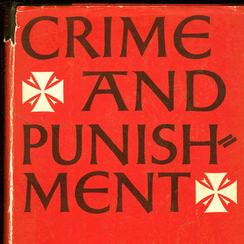 "On an exceptionally hot evening early in July a young man came out of the garret in which he lodged in S. Place and walked slowly, as though in hesitation, towards K. bridge.
"He had successfully avoided meeting his landlady on the staircase. His garret was under the roof of a high, five-storied house and was more like a cupboard than a room. The landlady who provided him with garret, dinners, and attendance, lived on the floor below, and every time he went out he was obliged to pass her kitchen, the door of which invariably stood open. And each time he passed, the young man had a sick, frightened feeling, which made him scowl and feel ashamed. He was hopelessly in debt to his landlady, and was afraid of meeting her."
Thus begins Fyodor Dostoyevsky's novel Crime and Punishment. "He" in this case is Rodion Romanovich Raskolnikov, a college drop-out living in abject poverty in 19th century St. Petersburg, Russia. Consumed with misery, anger, and a strange sense of self-importance, Raskolnikov will in the course of the novel commit a double murder plunging him even deeper into despair.
Along the way, he meets Sonia Marmeladov. She is the child of a hopeless drunk who, in order to support her father, his second wife, and his step-children, sells the only thing she possesses: herself in prostitution.
How the friendship between harlot and the murderer becomes the source of redemption is the topic of the novel and was the topic Dr. Virginia Arbery addressed at the 2019 Wyoming School of Catholic Thought. This is what she had to say.