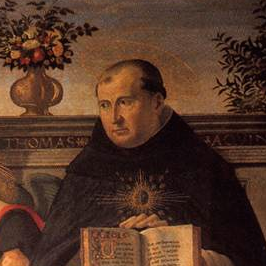 The story goes that the church sacristan overheard Thomas Aquinas speaking in prayer before the crucifix. Thomas was asking whether all he had written about the Christian faith was correct. "You have spoken well of me, Thomas," came the audible answer, "What is your reward to be." Thomas replied, "Non nisi te, Domini. Nothing but You, Lord."
On January 28 we celebrate the Feast Day of St. Thomas Aquinas and while most Catholics know that he has a special place in the Church, we may not appreciate how great a place he occupies.
Dr. Michael Bolin has been studying Thomas Aquinas at least a far back as his undergraduate days at Thomas Aquinas College. This week, he'll give us a kind of crash course in the life and teaching of The Angelic Doctor.