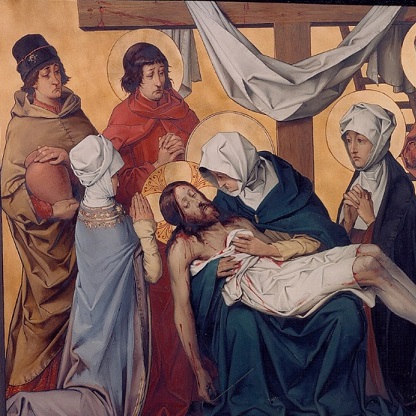 Writing at TheCatholicThing, scholar David Bonagura, Jr. writes about Passion Sunday and the blessing and receiving of palms. It's what we do, he says. Then he goes on, "But not this year. We will not be present to receive our palms, to hold them as the Gospel of Jesus' triumphal ascent into Jerusalem is read, to make crosses out of them, to thread them through our crucifixes upon returning home. It is a Palm Sunday without palms."
This year, Palm Sunday without palms will lead to Holy Thursday without our receiving the Eucharist, Good Friday without waiting on line to kneel and to kiss the crucified, and Easter without gathering in the dark to await the light and the resurrection. It is a strange and sad situation.
Here at Wyoming Catholic College, the sadness extends to the loss of our close-knit school community. Great gatherings for Easter brunches and Easter dinners will be limited to immediate family and groups of ten.
Last Friday, our academic dean, Prof. Kyle Washut spoke from his heart to the experience of our students, faculty, and staff. In doing so, he also, I suspect, speaks eloquently to you experience during this Holy Week. Here is what he had to say.