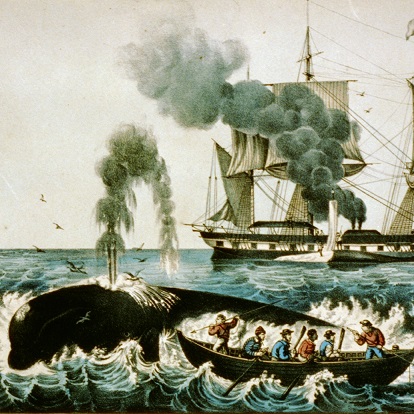 "Call me Ishmael. Some years ago—never mind how long precisely—having little or no money in my purse, and nothing particular to interest me on shore, I thought I would sail about a little and see the watery part of the world. It is a way I have of driving off the spleen and regulating the circulation."
The quotation comprises the first sentences of Herman Melville's 1851 novel Moby Dick, a vast, sprawling work that is about, among other things, whaling.
Dr. Elizabeth Reyes, a faculty member at Thomas Aquinas College in California was our guest lecturer here at Wyoming Catholic college in March. Her dissertation was titled: "Ishmael's Cetological Quest: A Progression of Imagination in Melville's Moby-Dick." Dr. Reyes was kind enough to join us for this podcast.
To hear Dr. Reyes lecture, "A Gentle Joyfulness," visit the Wyoming Catholic College website.