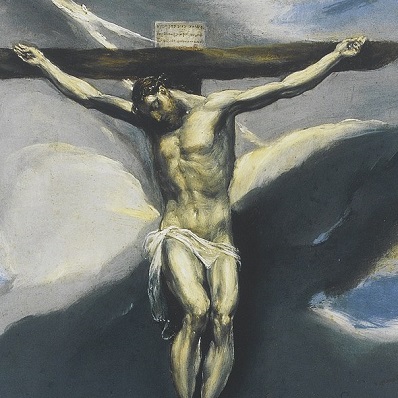 Faithful cross, above all other,
One and only noble tree:
None in foliage, none in blossom,
None in fruit thy peers may be:
Sweetest wood and sweetest iron,
Sweetest weight is hung on thee.
While each time we see a cross or a crucifix and every time we attend Mass we have the opportunity to ponder Christ's great sacrifice, during Holy Week it becomes almost the exclusive focus of our attention. 
Writing about Good Friday in his book Death on a Friday Afternoon, Fr. Richard John Neuhaus wrote, "This is the axis mundi, the center upon which the cosmos turns. In the derelict who cries from the cross is, or so Christians say, the Alpha and Omega, the beginning and the end. The life of all on this day died. Stay a while with that dying."
The Gospel of John, chapter 19 tells the story of that dying. In this podcast Dr. Jeremy Holmes discusses John 19 and the death of Jesus.