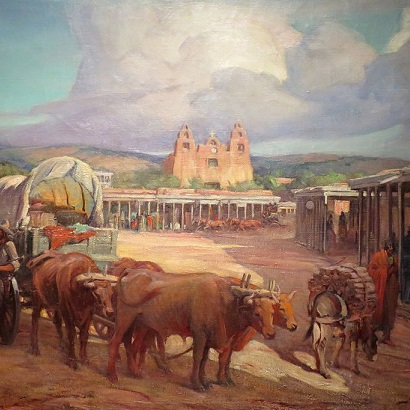 "One afternoon in the autumn of 1851, a solitary horseman, followed by a packmule, was pushing through an arid stretch of country somewhere in central New Mexico. He had lost his way, and was trying to get back to the trail, with only his compass and his sense of direction for guides....Under his buckskin riding-coat [the traveler] wore a black vest and the cravat and collar of a churchman. A young priest...and a priest in a thousand, one knew at a glance. His manners, even when he was alone in the desert, were distinguished. He had a kind of courtesy toward himself, toward his beasts, toward the juniper tree before which he knelt, and the God whom he was addressing."
Those first lines from Willa Cather's Death Comes to the Archbishop set the stage for the entire novel. A young priest riding through the middle of the varied landscapes of New Mexico.
Wyoming Catholic College senior Catherine Stypa chose Cather's novel as the subject of her senior thesis this past the fall and her senior oration earlier this winter. Catherine Stypa is our guest on this edition of The After Dinner Scholar.