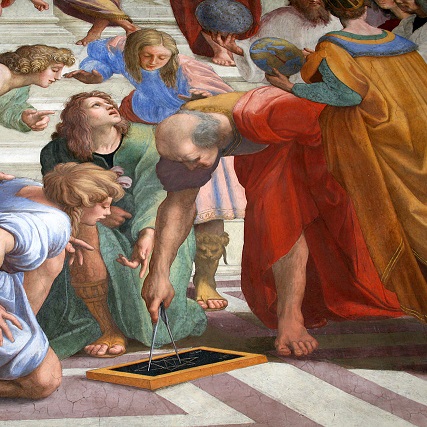 Beginning the second semester of freshman year, Wyoming Catholic College students begin studying Euclidian geometry. Students prepare for each class carefully waiting to be called to the board to demonstrate one of this week's propositions.
Euclid wrote his Elements in about 300 BC. Beginning with the definitions of a point and a line, he constructed the geometrical principles we still use today. And our students work their way from "On a given finite straight line to construct an equilateral triangle" to "construct an icosahedron and comprehend it in a sphere" to Book XII, Proposition 17, popularly known as constructing The Death Star.
Why Euclid? Our website puts it this way, "Euclid's Elements is the foundational text of mathematics in Western civilization." Dr. Henry Zepeda began this interview by explaining how that's the case.