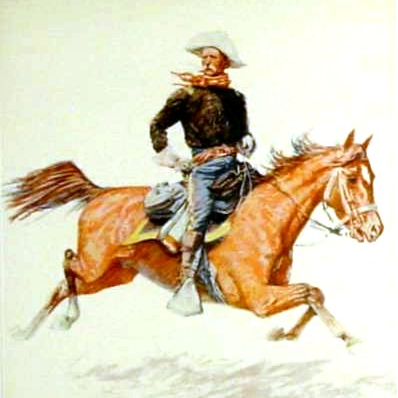 The train passengers watched as one cowboy after another tried to rope an uncooperative horse. "Then for the first time I noticed a man who sat on the high gate of the corral, looking on. For he now climbed down with the undulations of a tiger, smooth and easy, as if his muscles flowed beneath his skin. The others had all visibly whirled the rope, some of them even shoulder high. I did not see his arm lift or move. He appeared to hold the rope down low, by his leg. But like a sudden snake I saw the noose go out its length and fall true; and the thing was done. As the captured pony walked in with a sweet, church-door expression, our train moved slowly on to the station, and a passenger remarked, 'That man knows his business.'" Thus begins Owen Wister's 1902 novel The Virginian.
Being Wyoming Catholic College, we used Wister's tale about Wyoming in the 1870s as the subject of a recent all-school seminar. Our entire school community read the book and met in groups for discussion followed by dinner, roping, oil-barrel bull rides, black powder rifles, and Western dancing.
Prof. Kyle Washut, a Wyoming native, has long loved the book and is our guest on this edition of The After Dinner Scholar.