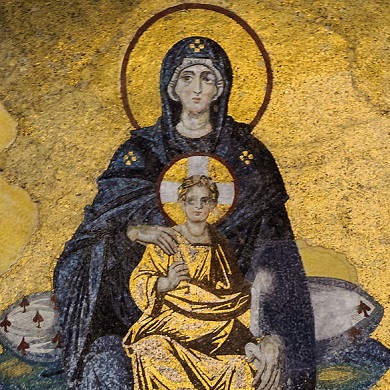 We've all experienced walking into a church in which the architecture and/or the sacred art was… let's say "unpleasant" to the point of distraction. And we've all had the experience of entering a church whose beauty draws us into the mysteries of the Faith and upward to God and to worship. Sacred art can and should have a profound effect on our spiritual lives.
David Clayton has been thinking about sacred art for many years. Prof. Clayton moved to the US from his native England in 2009 and was for several years artist in residence at Thomas More College in New Hampshire where his icons adorn the college's chapel. Currently he is Provost of Pontifex University where he designed their unique Master of Sacred Arts program, a formation in creativity for all (not just artists). His blog and podcast are at thewayofbeauty.org. His books include Painting the Nude - The Theology of the Body and the Representation of Man in Christian Art and The Way of Beauty, a book our Wyoming Catholic College seniors read in their study of art.
David Clayton was here in Lander delivering a lecture to the college last Friday entitled "Why Sacred Art is Necessary to the Faith." Saturday morning before a bit of Wyoming hiking, Prof. Clayton was kind enough to record this interview about sacred art and beauty.
If you're interested in watching David Clayton's entire presentation, you can access it at the college website, wyomingcatholic.edu.